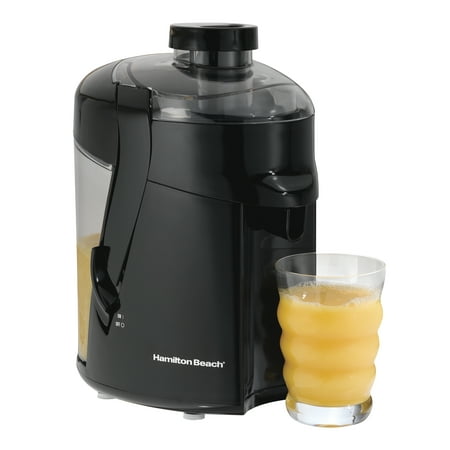 New to juicing or ready to kick-start a healthy lifestyle?The HealthSmart Juice Extractor is ideal for the novice juice drinker or aspiring health nut, with its easy-to-use features, powerful 400-watt motor, stainless steel cutter, recipes and tips.Eating healthy and incorporating fruits and veggies into snacks or meals doesn't have to be expensive or time-consuming. The perfect upgrade from a simple citrus juicer to a multi-purpose juicing machine, the HealthSmart Juice Extractor has a powerful 400-watt motor and durable stainless steel cutter/strainer to juice hearty fruits and vegetables: apples, carrots, pineapples, celery and more in hefty quantities.The HealthSmart Juice Extractor livens up produce by taking fruits and vegetables that are in season or in-stock year-round and turning them into juice mixtures that taste fresh and delicious without the need for sugar or preservatives. So forget about those expensive, store-bought juice drinks, smoothies and sugary sports drinks. Fresh taste and nutrition are just a few minutes away with the HealthSmart Juice Extractor.
Processes hearty fruits and vegetables, including apples, carrots and celery
Designed for easy assembly, handling, operating and storage
Powerful 400-watt motor
Stainless steel cutter/strainer juices produce quickly
Juice spout funnels juice directly into a variety of glass and container sizes
Removable plastic parts are dishwasher safe
One year warranty
Part of a Healthy Lifestyle
According to the USDA, the benefits of eating fruits and vegetables daily are undeniable. People who eat more fruits and vegetables as part of an overall healthy diet, are likely to have a reduced risk of some chronic diseases, including heart attack and stroke, certain cancers, heart disease, obesity, and type 2 diabetes. It's also been proven to reduce the risk of developing kidney stone, decrease bone loss, ease muscle aches, alleviate high blood pressure and add years to your life. Source: USDA, 2012 Healthy Eating on a Budget, www.choosemyplate.gov
Customer Reviews

It was something that I like an wantedIngrid
Perfect
Everything! It is just perfect.
Small but Mighty!
This little juicer is small but Mighty! My daughter is addicted to Apple juice and had been asking for a juicer to make it at home so she never runs out again. I knew I couldn't afford the high end super expensive ones So I was happy to see this cute little Joker for about 30 bucks or so(Thank YOU Walmart)When she opened it christmas morning I told her It was something for now until we could get a better one. WELL NO NEED! This little things Juices like a beast! Fast and Effective (almost dangerous) We made apple juice and Orange and mandarin juice and a whole bunchof other fruits we had in the house. THE HARDEST PART IS THE CLEANUP! That's the only thing I would improve. The pulp gets in every nook and cranny. Fix that Hamilton Beach and you've got a Winner.TheRealGlo
You may also be interested in